Allen Fukada's four years at Oxy became a cornerstone of his personal and professional life.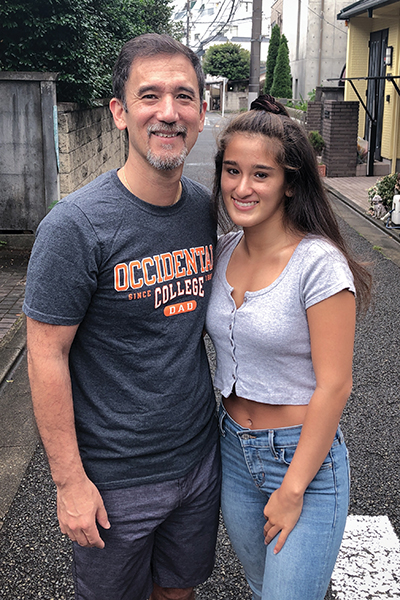 When Allen Fukada '86 was a high school freshman in Claremont, a family friend who was the parent of two Occidental students introduced him to the Oxy campus. "It's a little bit ironic, being in Claremont with Pomona and all the other colleges, but we drove out, saw Oxy, and I said, 'Wow, this is great—I'm going to go here.'"
That straightforward decision belied the complexity of Fukada's life. He had been raised in Kyoto, Japan, where his parents were Methodist missionaries and his father a professor at Doshisha University. (They were in Claremont so his father could complete his doctorate at Claremont Theology School.)
"When I was younger, there weren't that many foreigners who spoke Japanese, and it was confusing for people,"  says Fukada, who today is a partner and Asian supply chain specialist for EY Japan, part of London-based big four accounting firm Ernst & Young.
His decision to attend Oxy after a single visit was based on two main factors: the appeal of the campus itself and the College's diplomacy and world affairs program. "I just loved the campus—I thought it was beautiful and I loved the size of it," he says. Just as importantly, "At the time I planned to go to law school and work for the U.N. or some international organization, so DWA was very attractive."
Fukada's four years at Oxy became a cornerstone of his personal and professional life. "It was foundational for me in a number of ways," he explains. "It challenged me, it inspired me and gave me the tools that have enabled me to do what I have done over the years. Oxy allowed me to grow, to form my own perspective on life and decide who I wanted to be. And it gave me a handful of lifelong friends."
Almost 40 years later, Fukada remembers how his freshman writing seminar "really put me through the wringer in the most helpful, constructive way," how impressive History Professor Brice Harris was in the classroom, and the impact of the arrival of Chevalier Professor of Diplomacy and World Affairs George Sherry during his senior year. (Sherry became his adviser.) "Lots of great classes really stand out to me," he says.
After graduation Fukada spent a year as an intern for the United Methodist Global Mission Board working in the Federated States of Micronesia before returning to Tokyo, where he took a job with RR Donnelly, the Fortune 500 communications company. Expecting to work for a couple of years to save money for graduate school, he stayed for 20 years, subsequently moving to IBM and DHL before joining EY in 2015.
Now the father of an Oxy alumna (Aime '21) and a sophomore cognitive science major (Ally), Fukada made a generous gift to the College as part of the Class of 1986 Reunion Challenge. "I was supported significantly by the College, and I've always been thankful for that," he says. "Aime, who's now at the University of Wisconsin, Madison, jokingly said she's never felt as smart as she does right now, Oxy prepared her so well. My wife and I are really strong believers in liberal arts education, and we hope we can do more for Oxy as time goes by."
Photo: Allen Fukada and his daughter Ally '24