When David Stewart '92 was looking at colleges, his mother sent him $300 to apply to nine schools.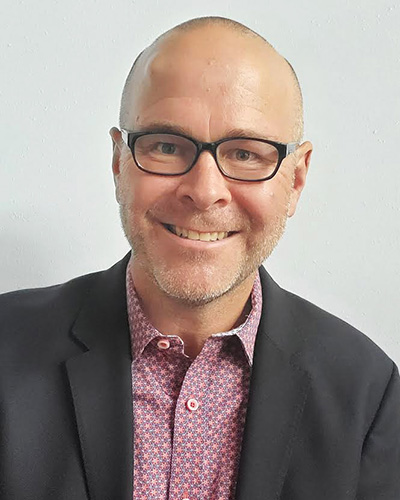 He was studying in Honduras at the time as an exchange student with AFS, and he used the application money to take a trip to Guatemala instead. "I only applied to one school and didn't tell her," he admits. "She began wondering why I wasn't getting any admission letters in the mail, thick or thin, and finally I told her: 'I only applied to Occidental.'"
Oxy might have never been on his radar were it not for the man he calls his "grandfather," a Mexican immigrant who had attended Loyola University on a basketball scholarship and later made millions as a serial entrepreneur. Growing up poor in affluent Manhattan Beach, Stewart lived with his mom and stepdad in a small in-law apartment behind a mansion that faced the ocean. He was 3 when he met his next-door neighbor, a man in his mid-50s with gray hair. "I asked him, 'Are you my grandpa?'" Stewart recalls. "And he said, 'Do you want me to be?' I said, 'Yes,' and he replied, 'Well, then I am.'" 
That relationship would change his life. As a high school student, Stewart was working at Ralphs and pondering his academic future. "I was thinking maybe I'd go to El Camino Junior College and then transfer to a UC school," he says. "And my grandpa said, 'Why don't you go to Occidental? They have a great core curriculum, it would be really good for you, and I'll pay for it.' He took me on a tour of the College, and I fell instantly in love."
After Stewart was accepted to Oxy, he got need-based financial aid from the College, with his grandfather writing a check to cover the difference. During his senior year, he says proudly, "I covered half of my tuition and expenses by being a hall director." (At his 30th reunion last June, he got together with his two RAs from Erdman.)
Stewart tried on a succession of majors before settling on Spanish "because I couldn't go to Spain my junior year and finish my math requirements," he says. (In 2004, he completed a master's degree in statistics and measurement from the University of Pennsylvania, which "felt like a culmination of what I had started at Oxy.")
After graduation, Stewart spent 12 years at the Princeton Review, the test preparation company, followed by a role as vice president of product development at a McGraw-Hill Education company and a position with the New York City Department of Education as executive director of evaluation and performance reporting. In 2010, he started Tembo, a data analytics and visualization software company, that he sold in 2019 to Hoonuit (which itself was acquired by PowerSchool in 2020).
That same year, Stewart enrolled in an executive MBA program at INSEAD in Fontainebleau, France, completing his degree this past July—and, having traveled the world for the last two years, "I'm pretty sure I'll live in Europe for the rest of my life," he says via Zoom from London. Together with three of his classmates from INSEAD, Stewart recently launched 05 Advisors, an advisory services company for early-stage startups: "We're just getting started, so it's not a lot of my time, but it's fun."
A class secretary since 2015 and a longtime supporter of the Oxy Fund, Stewart was doing some estate planning when an email popped up from Oxy that basically said, "Put us in your will." And so, he did—creating a $50,000 bequest for scholarship support that he hopes to grow over time.
"My grandpa's spirit of giving was what inspired me," he says. "Oxy definitely gave me more than I've given it so far, but I want to at least pay back what I got from the College. I thought it was the right thing to do.
"Generosity is contagious," Stewart adds. "It's nice to feel like you can give back a little bit."