When Dayna Chikamoto '12 was going through the college application process, "I wanted to get away from home but I didn't want to go too far from home," the Honolulu native says. "Also, I didn't want to go to a huge college where I would get lost in the crowd. Oxy being a small liberal arts school in California was very attractive to me."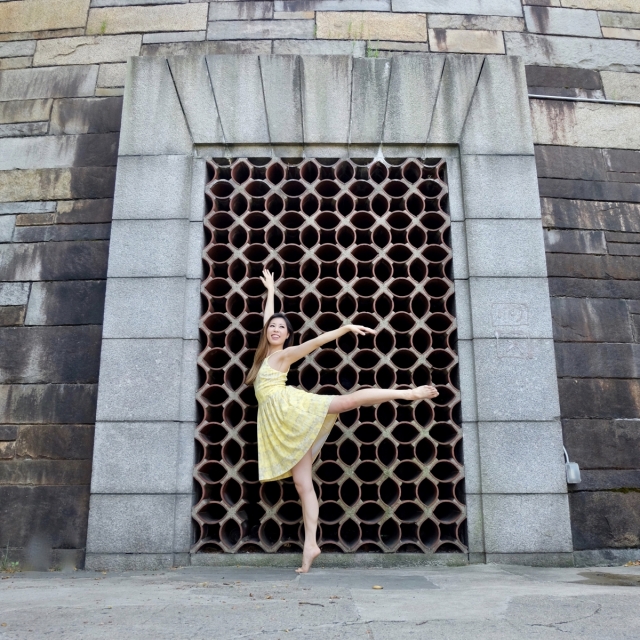 Dayna majored in psychology with a double-minor in economics and Japanese ("They all ended up being things that I'm extremely interested in"). Her favorite professor was Stuart Rugg in kinesiology, five-time recipient of the Donald Loftsgordon Outstanding Teaching Award. "I had no interest in going into kinesiology and I took Human Anatomy to fulfill one of my Core requirements," she says. "Professor Rugg was very interactive with the students and made learning fun. That was a very pleasant surprise."
An avid dancer, Dayna quickly got involved in Dance Production at Oxy, choreographing dances all four years and serving as co-president her senior year. "I met so many people through Dance Pro that I'm quite certain I never would have otherwise met," she says. Her favorite part of Dance Pro was the finale, where the entire cast and crew—not just the choreographers and the executive board—shared the Thorne Hall stage to close the show: "It's a huge crowd-pleaser."
After graduating from Oxy, she says, "Dance got me through law school. Even now, if I have time after work, I found a dance studio that's pretty close to my law firm's office in New York City. Pre-pandemic, I would always have a spare change of clothes in my closet. If I was able to get out early enough, I would go down and take a dance class."
As an associate at Kramer Levin Naftalis & Frankel LLP since 2017, Dayna primarily handles civil litigation—assisting on complex commercial, false advertising, antitrust and real estate cases in federal and state courts.
"The work that I'm doing now is like an extension of a liberal arts education, where I'm learning about all different types of law and businesses," she says. "I'm able to use a lot of skills that I developed at Oxy: critical thinking, writing, communication, even teamwork skills that I learned through being involved in Dance Production and other activities."
Dayna also does a lot of pro bono work, which she views as an extension of what she did at Oxy, "giving back to the community and helping others who are less fortunate. That's always been important to me. Those skills that I developed at Oxy are part of what goes into being a lawyer.
On top of her busy career, Dayna remains involved with Oxy as an admission volunteer for ViSTA, as an active member of Oxy's GOLD committee for young alumni, and as a leadership-level GOLD donor. "I know from my friends who worked at Telefund that even if you're paying sticker price for Oxy, your education is being assisted by donors. Knowing that I was able to go to Oxy and have the experience that I did because of others who made that possible has really stuck with me. That compelled me to give back to the College."