Katharine Kleinke '62 is a daughter of parents who immigrated to the U.S. from Germany in 1937. She received a wide-ranging liberal arts education at Occidental that equipped her for careers as a teacher and school psychologist.
More than 60 years ago, she earned both a bachelor's degree in education and a teaching credential from Occidental's now-retired dual program. In a two-year course on the history of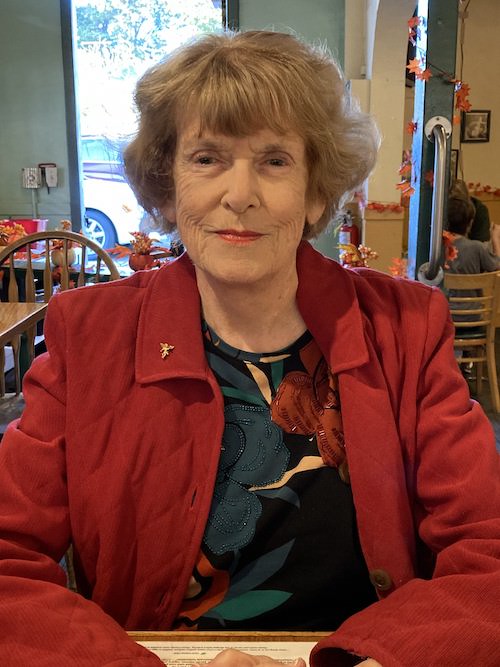 Western civilization, Ms. Kleinke recalls diving into a diverse array of studies in history, economics, literature and art, taught by professors across a variety of departments.
"The foundation of an Occidental education is what launched me into life," she says. "When we were at Occidental, we were taught how to think, how to consider—and that has carried me through life and a variety of careers."
Ms. Kleinke, who initially commuted to campus from her family's nearby home, eventually earned a scholarship from her church that allowed her to move onto campus in her junior year. Beyond the typical scenes of a college student's life—attending lectures, socializing in the dorms, sharing meals with friends—Ms. Kleinke's fondest memories include Occidental's picturesque grounds.
"It's like a huge park, and it's just lovely being there," she says. "The beauty of the campus adds to the educational experience. You can concentrate on what you're studying, and what you want to do."
Upon graduating from Occidental, she moved to the Bay Area to take a job as an elementary school teacher in San Jose. After five years of teaching, followed by a year in Germany, she moved east to pursue a master's degree in counseling at Northeastern University in Boston. Approximately two decades later, a credential in school psychology from San Jose State University paved the way for her final career as a school psychologist—following the path of her parents' careers as social workers, and that of her brother, Chris Kleinke '65, a professor of psychology.
This year, Ms. Kleinke donated a Steinway & Sons Spirio r | player piano to Occidental's music department. Hailed as the world's finest high-resolution player piano, capable of live performance capture and playback, the piano is the first of its kind on campus and offers students the unique chance to hear historical recordings played by an instrument, as opposed to a digital recording.
It's a gift that will enhance Occidental's rising status as one of the nation's top schools for music. Between its recent ranking from Billboard magazine and state-of-the-art Choi Family Music Production Center renovation, the music program has grown into a hub for immersive education in the music capital of the world. It is now the school's sixth-largest program and a new focal point in the college's 2023 strategic plan. 
Ms. Kleinke's own love of piano began when she took her first lessons as a teenager in the '50s—a privilege that came only after her family finally settled in Los Angeles following multiple moves throughout her childhood. Now, her gifted piano will serve future generations of pianists by "bringing the industry to our campus," says Chris Kim, Choi Family Director of Instrumental Music and conductor of the Occidental Symphony Orchestra.
In addition, Ms. Kleinke continues to support future generations of Occidental students through the Class of 1962 Endowed Scholarship.
"I wouldn't have given a large gift if Occidental hadn't meant something important to me in my life," she says. "It was a good educational foundation for my life."