The connection Axel Steuer '65 has to Occidental began when he was an undergraduate student, but over the years, he and his wife, Loreli, have deepened that connection by consistently giving back to the Oxy community.
Their joint commitment to the liberal arts has led them to both attend and teach at a variety of liberal arts schools across the country, including Occidental.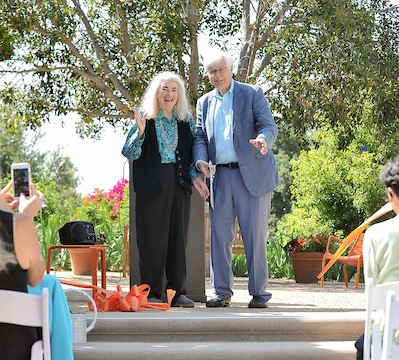 Upon graduating Oxy summa cum laude, Axel earned his MA and PhD in Philosophy at Harvard University and the University of Pennsylvania, respectively. In 1970, he married Loreli and six years later, he returned to Oxy as a professor and was asked to help develop and build out the Religious Studies department. He served as department chair for ten years and then went on to become the executive assistant to two Occidental Presidents, Dr. Richard Gilman and Dr. John Slaughter. In addition to his service to Oxy, Axel has taught at Haverford, Swarthmore, and Princeton, served as President for Gustavus Adolphus College as well as Illinois College where he is currently a retired President Emeritus. 
Through his career as a professor, administrator, and president, Axel has consistently advocated for the value of a character-building education that focuses as much on personal growth and development as on instruction for the working world. As an undergraduate without financial means who received a full ride scholarship to Occidental, he seeks to empower first generation students by giving them the opportunity to receive the education that so inspired, shaped, and aided him in his career. 
When Axel returned to Oxy as a professor, Loreli also began her teaching career in the English department at the College. She primarily worked for a publishing company, but then began teaching writing requirement classes and helping tutor those who needed extra assistance with their writing. Loreli fondly remembers the students, among them many football players, who would take her required writing class at the end of their Oxy careers together with the first years eager to improve their writing. 
Loreli and Axel, united by their love and appreciation of a liberal arts education, both speak highly of what such an education can do for young people. Axel greatly enjoyed his time at Oxy and "loved History of Civilizations''. Being a successful adult, he says, has more to do with "questions of having a vision, being creative, and problem solving", all integral to an Oxy and broader liberal arts education, rather than specific skills that are better learned through experience. Loreli agrees and adds that with "the knowledge base that the liberal arts provides, a student can go off in any direction and have a foundation". When discussing the importance of a liberal arts education, she says that it "makes for really decent, good, knowledgeable, thinking, creative, kind, and valuing people and that's probably the most important reason of all."
Because of their dedication to a liberal arts experience and their love for Oxy, the Steuer's have given generously to the College over the years. Their latest gift funded "Loralee's" Legacy Garden - a quaint garden residing  in between Wylie Hall and the Hameetman Science Center. The garden will provide a sunny and relaxing spot for Oxy students to do schoolwork, chat with friends, or simply sit and experience the world around them. 
Axel and Loreli are also members of the Ben Culley Society and have made Occidental a beneficiary of their will. This generous gift will go towards The Obama Scholars Program, which seeks to empower the next generation of leaders to actively pursue the public good. As a student who received a scholarship to Occidental, Axel knows the powerful impact that access can have on a student's trajectory in life. Of President Obama, Axel says "he walked a road that began at Oxy" and hopes that the program and the example of the President inspires students for years to come.