After receiving a life-changing diagnosis, Nina J. Gutin '85 found unwavering strength and support through her Oxy community.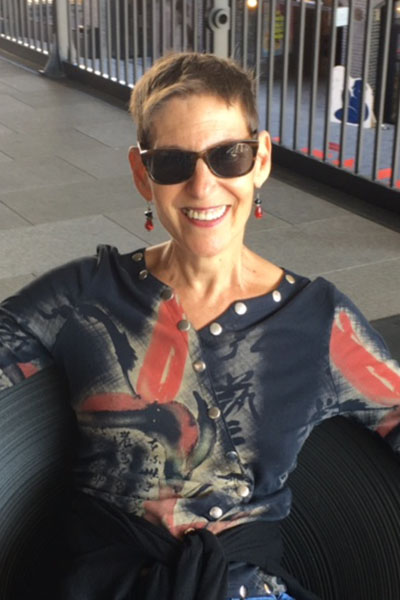 "In the spring of my freshman year, I wasn't feeling well," Nina says. "I used to be very athletic, but I was feeling run-down, out of breath. So I went to Emmons to get my blood tested. That night, the doctor tracked me down at a friend's house and said, 'You've got to spend the night at Emmons,'" she says. "Long story short, it turned out that I had leukemia."
Over the next year, Gutin—a psychology and philosophy double major—divided her time between campus and the City of Hope's cancer treatment centers. "I really just wanted to continue being a student. I didn't want to just be 'the cancer patient,'" she says. "They had given me a 5% chance of survival. I was like, 'OK, well, then I want to be educated. I want to make the most out of whatever time is left.'"
Friends and professors rallied around her, going above and beyond to accommodate her chemotherapy schedule. "I have this really wonderful memory of John Swift coming to my hospital room to sit at the end of my bed and give me a tutorial on Robert Frost's poetry," she says. "When you go through something like [cancer], it makes you appreciate the things in life that are valuable."
Now, as a Pasadena-based clinical psychologist with a specialty in the prevention and postvention of suicide, her mission is to improve how people understand and intervene with suicidal distress. For over 25 years, she has supported those who have lost loved ones to suicide, as well as mental health professionals who have experienced the loss of a patient—a widespread occupational hazard that can be shrouded in uncertainty and self-blame.
"I'm in my 60s now. When I look back at my life, Oxy played such a significant part in not only my education, but my identity," she says. "I was given the support that I needed to become the person I am, to do the things that I'm doing, and to have the voice that can say to things that are conventional and wrong, 'Screw that, things need to change.'"
As an active alumna, she helped to provide suicide prevention training for Emmons staff. "It was a way to almost come full circle," she says. "They were so warm and clearly cared so deeply about students." She also champions the Obama Scholars Program: "When I heard that it was going to be given to students who have the voices and energy to pursue different types of social justice, that just really aligned with what I want to support."
Gutin credits Oxy with instilling within her a persistent, humble curiosity that guides how she collaborates with her patients. "As a psychologist, I'm not going in and working with people thinking that I know better than them, or how to fix them. It's a dual journey of trying to figure that out together, and learning as much as I can," she says. "At Oxy, I gained deep, critical thinking that is driven not so much by the desire to know, but the desire to be curious about what I don't know."