The gift that allowed Stacey Carr '04 to attend Oxy is what motivates her to continue to give back to Oxy students to this day.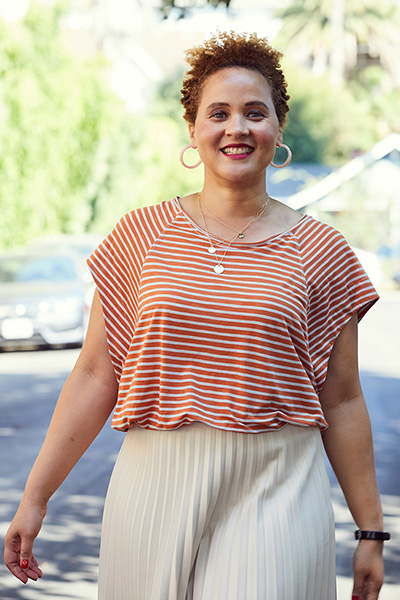 Growing up in Reno, Nevada, Stacey Carr '04 first heard of Oxy when her track coach received a postcard encouraging Carr to run for Oxy's track team. After visiting the campus, she recalls that "it just felt like the place for me." However, despite financial aid and a few small scholarships, she had concerns about how her family would cover the costs over four years.
As a high school senior, Carr won the Best of Education Top 12th Grader award that landed her in the local paper. It was this article that caught the eye of Mark Gainey P'24, a Reno native and Silicon Valley entrepreneur at the time, who offered Carr a full scholarship to attend Oxy. It was an act of generosity that Carr carries with her to this day.
When Carr got to Oxy, she dove into academics as well as student life: planning spoken word nights and participating in O-team and Dance Pro. "It was just freaking fun," Carr recalls. The student support and tight-knit community at Oxy made Carr feel confident trying new things.
"Oxy was an environment where you could try for the scary stuff, [like applying for a Richter Scholarship for Research Abroad] and learn that they were possible."
Carr's years at Oxy prepared her for her proudest achievements, including working at OWN: Oprah Winfrey Network, producing Emmy-nominated Nickelodeon special Kid of the Year, and making the leap from Los Angeles to London in August of 2021. At first, "these challenges felt scary and big, almost impossible," but she drew confidence from the success she found in accomplishing feats at Oxy that felt similarly intimidating.
Almost 20 years out from Oxy, Carr is still motivated by her cherished memories and the generosity of others to give back to Oxy through her involvement on Oxy's Board of Governors and as an advocate for the Day For Oxy (Oxy's annual day of giving). It was actually through her involvement in the latter that Carr was able to reconnect with the person who helped make her time at Oxy possible: Mark Gainey, now the parent of a current Oxy student.
Carr noticed Gainey's name as a lead Day For Oxy supporter and was struck that he was still helping Oxy students. Catching up with him after the event reminded Carr that his gift years ago "was a moment of major generosity in my life and after something like that happens, you can't not give back."
Today, Carr directs her donations to scholarships and other areas of need that support Oxy students in the way she was supported. Carr plans to continue supporting Oxy and its students.
"You have to give because you have to give others the opportunity to have what you had. Money is a tool to help other people."